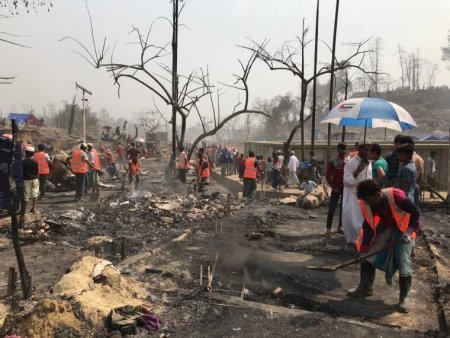 Last month, a massive fire swept through the largest refugee camp in the world in Cox's Bazar, Bangladesh, where nearly one million Rohingya refugees live. The fire took 15 lives and burned down thousands of shelters and health facilities, leaving more than 45,0000 people displaced.
Our teams met Ismael, 35, in the middle of the crowds and confusion. Ashes and burned debris are all we could see. His eyes fixed on the horizon, Ismael told one of Action Against Hunger's psychosocial workers: "I was in the tea shop when I heard a fire broke out. How many more times I may witness my shelter being burnt down to ashes…"
For Ismael and his neighbors, the fire brings painful memories of their flight to Bangladesh in 2017. Hundreds of thousands of Rohingya saw their homes burned and communities razed, forcing them to flee Rakhine State nearly four years ago. "They burned my house and all that I had in it," recalls Ismael.
Today, living in overcrowded camps, the plight of the displaced Rohingya remains extremely fragile. "In the light of raging fires, my future is still obscure," says Ismael.
The fire destroyed homes, belongings, and important documents, including identification and data cards, that allow Rohingya refugees to work and access food and essential services in Cox's Bazar. Many people, particularly children, were separated from their families as they ran to find safety amidst extreme chaos and confusion.
SOURCE: Action Against Hunger