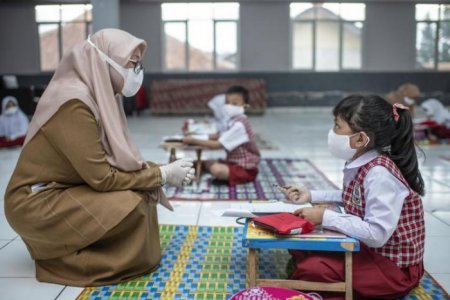 A child's first day of school—a landmark moment for the youngest students and their parents around the world—has been delayed due to COVID-19 for an estimated 140 million young minds, UNICEF said in a new analysis released as summer break comes to end in many parts of the world.
For an estimated eight million of these students, the wait for their first day of in-person learning has been over a year and counting, as they live in places where schools have been closed throughout the pandemic.
"The first day of school is a landmark moment in a child's life—setting them off on a life-changing path of personal learning and growth. Most of us can remember countless minor details—what clothes we wore, our teacher's name, who we sat next to. But for millions of children, that important day has been indefinitely postponed," said UNICEF Executive Director Henrietta Fore. "As classes resume in many parts of the world, millions of first graders have been waiting to see the inside of a classroom for over a year. Millions more may not see one at all this school term. For the most vulnerable, their risk of never stepping into a classroom in their lifetime is skyrocketing."
The first grade sets up the building blocks for all future learning, with introductions to reading, writing, and math. It's also a period when in-person learning helps children gain independence, adapt to new routines, and develop meaningful relationships with teachers and students. In-person learning also enables teachers to identify and address learning delays, mental health issues, and abuse that could negatively affect children's well-being.
In 2020, schools globally were fully closed for an average of 79 teaching days. However, for 168 million students, after the pandemic began, schools were shuttered for nearly the entire year. Even now, many children are facing an unprecedented second year of disruption to their education. The associated consequences of school closures – learning loss, mental distress, missed vaccinations, and heightened risk of drop out, child labour, and child marriage – will be felt by many children, especially the youngest learners in critical development stages.
Source: UNICEF