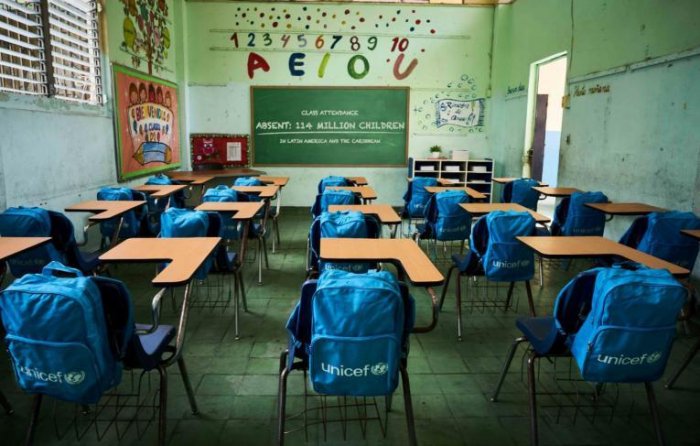 One year after the beginning of the pandemic, Latin America and the Caribbean remains the region in the world with the largest number of children still missing out on in-person classes. On average, children in this region have lost 158 school days of face-to-face schooling.
To date, only seven countries in Latin America and the Caribbean have fully opened their schools. In 12 countries and territories, schools remain fully closed. In the rest of the region, classrooms are partially closed.
Despite government efforts to ensure continuity of distance education through virtual platforms, radio and TV, school disruptions have had a catastrophic impact on students' learning achievements, protection, health, mental health and their socio-economic prospects in the future.
"Nowhere else in the world so many children are currently left without face-to-face schooling," said Jean Gough, UNICEF Regional Director for Latin America and the Caribbean. "This is the worst education crisis Latin America and the Caribbean has ever faced in its modern history. Many children have already lost one year of face-to-face schooling; now they started to lose another school year. Each additional day without face-to-face schooling puts the most vulnerable children at risk of dropping out of school forever."
The longer children remain out of school, the less likely they are to return. It is estimated that more than 3 million children in the region may permanently drop out of school because of the pandemic.
In a region where before COVID-19 many students did not reach basic levels of math, reading and writing skills in elementary and middle school, the impact of prolonged school disruption on learning achievement will be severe and long-lasting.
According to a recent World Bank report, 71 percent of students in Latin America and the Caribbean in lower secondary education may not be able to understand a text of moderate length. Before the pandemic, the figure was 55 percent. That percentage could rise to 77 percent if schools are closed for three more months.
During school closures, some 45 million students in 24 countries in the region have been supported by UNICEF in the provision of distance programs and 9 million children, parents and primary caregivers have received mental health and psychosocial support in the community.
SOURCE: UNICEF