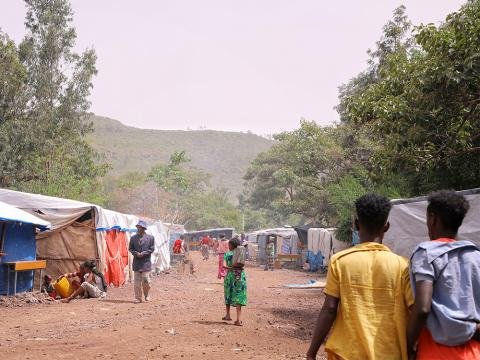 The Ethiopia Emergency Shelter and Non-Food Item (ES/NFI) Cluster led by the International Organization for Migration (IOM) said today USD 27 million is urgently needed to continue providing emergency shelter and other assistance for those internally displaced in Tigray.
An estimated 5 million people have been affected by the humanitarian crisis triggered by conflict nine months ago, and more than 2.1 million people are internally displaced in the region, according to IOM's Displacement Tracking Matrix (DTM) Emergency Site Assessment Report 7, released last week.
While some have fled Ethiopia and sought refuge in neighbouring Sudan, many are sheltered in 116 sites for internally displaced persons (IDP) in the region.
Some 629,000 have been reached with lifesaving emergency shelter and non-food items that include blankets and cooking utensils.
But the assistance has not been confined to tangible items. An example is the local population who have shown solidarity by sheltering the vast majority of the displaced.
However, this hosting capacity appears to have reached its limit, particularly since the disruption of banking services and the reduced supply of goods and services because of the crisis.
Source: IOM