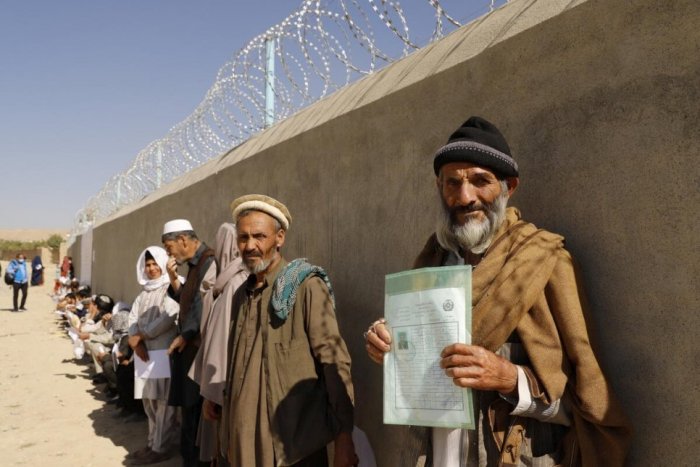 At a facility operated by UNHCR, the UN Refugee Agency, about 15 kilometres outside Kabul, a large group of men, women and children are queueing in the autumn sun. With relief coupons in their hands, they are wating to enter the compound through a gate guarded by a Taliban soldier.
Inside, UNHCR and other humanitarian agencies are distributing aid to more than 1,000 Afghans displaced from around the country who are now living in Kabul. They receive blankets, plastic sheets, cooking stoves, buckets, water jerry cans, soap, hygiene kits and cooking utensils. The most vulnerable also receive some cash assistance.
Most have been sleeping in the open or under makeshift shelters in one of two public parks while those who can afford it are renting apartments across the city.
With winter fast approaching, temperatures in the capital are already reaching close to 0°C at night and may dip to as low as -25°C in mid-winter, putting those sleeping outside at risk of hypothermia.
As people collect their relief items an elderly woman sitting alone on a bench starts shivering uncontrollably. UNHCR staff rush to help her and learn that she has not eaten for days and is about to collapse from hunger.
She is not the only one in desperate need. A mother pleads for an additional packet of cereal so she can feed her children. And a 65-year-old grandfather explains that he has been trying to care for 26 family members since they returned to their home area from Pakistan in July only to find that their home had gone. They moved to Kabul where they have been living in the open since August.
"We go for days without food," he said, adding that one pack of relief items meant for a family of seven would not go far. "But right now, anything is something."
Afghanistan is facing a worsening humanitarian emergency with the economy near collapse and about half the population now reliant on aid. There are more than 3.5 million people displaced by conflict inside the country, including some 700,000 forced to flee this year alone.
Source: UNHCR