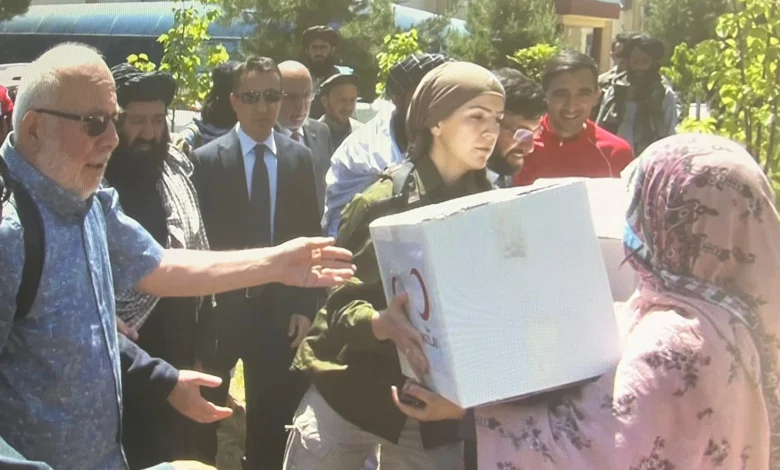 In the humanitarian crisis in Afghanistan, Turkey continues its support to those in need in the country with the support of civil aid organizations and philanthropic citizens. Emergency food aid was delivered to 700 families through the Red Crescent channel and the charitable Turkish businesspeople Tahsin Yazar and Fatih Elmalı.
In a ceremony held in the capital city of Kabul at the Ministry of Martyrs and Veterans, those in need received their aid from Turkish philanthropist Tahsin Yazar and Turkish Ambassador Kabul Cihad Ergin.
In his statement to insaniyardimlar.com, the benevolent businessman said, "I, with my brother Fatih Elmalı, have been delivering aid to people living in harsh conditions in different geographies for 15 years. In Bangladesh, we support our Rohingya Muslim brothers and sisters to 100,000 families a year. Now we have started the monthly food aid program in Afghanistan that will last for 1 year, and we are delivering it together with the Turkish Red Crescent. I am very happy to support our Afghan friends," he said.
Aid reached thousands of families
The Ambassador of Kabul, Cihad Ergin, emphasized that Turkey's aid to Afghanistan has continued uninterrupted since last August, and stated that tons of aid materials were delivered to the Afghan people through four aid trains, in cooperation with the Turkish and Afghan Red Crescent, under the coordination of AFAD.
Ambassador Ergin said that during this period, more than ten thousand Afghan families' food and supplies were met through aid from Turkey and that this aid will continue with the support of philanthropists and non-governmental organizations.
Gaffar Mengli – Insaniyardımlar. com-Kabil