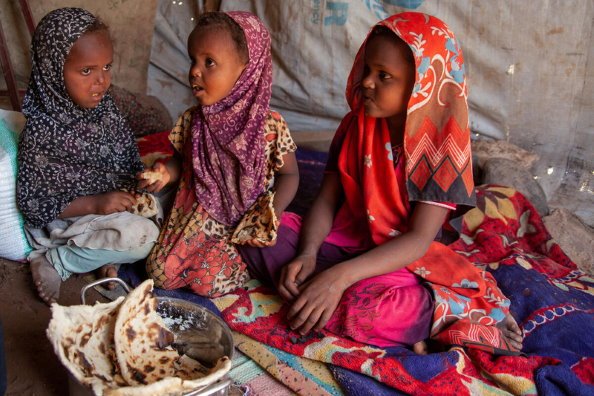 The United Nations World Food Programme (WFP) is increasing the level of food assistance in Yemen's worst hunger hotspots in an effort to prevent a devastating famine. But the agency's ability to sustain the response to the end of the year remains uncertain.
"The continued fragility in Yemen, compounded by the persistent driving factors of food insecurity has left Yemen acutely vulnerable to worsening levels of hunger – and famine conditions," said Laurent Bukera, WFP Country Director for Yemen. "Escalating conflict, economic decline, rising global commodity prices and COVID-19 have all contributed to an alarming increase in acute hunger over the last year."
Nearly 50,000 people in Yemen are already living in famine-like conditions and 5 million people are in immediate danger. A child dies every 10 minutes of preventable diseases such as diarrhoea, malnutrition and respiratory tract infections.
Responding to these acute needs, WFP resumed monthly distributions to 350,000 people in 11 districts facing famine-like conditions (IPC5) in February.
In April and May this year, after new funds were confirmed, WFP began increasing assistance to nearly 6 million people in the nine governorates with the highest rates of 'emergency' food insecurity (IPC4): Hajjah, Al Jawf, Amran, Al Hodeidah, Raymah, Al Mahwit, Sa'ada, Dhamar and Taiz. From June, these people will again receive the full ration every month.
WFP supports a total of 12.9 million people with food assistance in Yemen, prioritising areas with the highest rates of food insecurity and providing rapid support to families displaced by conflict, such as in the Marib governorate. But in April 2020, in a challenging operating environment and facing reduced funding, WFP was forced to stop providing assistance every month, and instead provide it every two months, in the northern areas of Yemen.
This year, donors have so far stepped up with nearly $947 million for WFP's famine prevention effort in Yemen, including large-scale support from the US, the Kingdom of Saudi Arabia, the United Arab Emirates, Germany and European Union. WFP's food security monitoring, which tracks food consumption, dietary diversity and food-related coping strategies, will soon show the impact of the gradual scale up of assistance, as seen following the significant increase of assistance in 2019 when famine last threatened.
Source: WFP