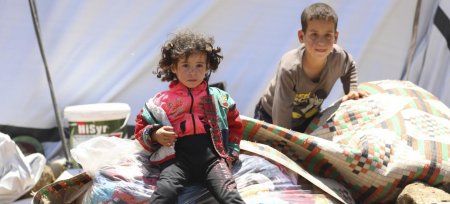 The Syrian government must immediately lift a two-month siege of opposition stronghold Daraa al-Balad and allow unfettered humanitarian access to the area where around 20,000 people are living in dire conditions with scarce supplies of food and barely any medical care, Amnesty International said today.
Thousands have fled Daraa al-Balad, a southern city of Daraa, since the siege began on 24 June. Humanitarian agencies have been unable to access the besieged area, bringing an end to the delivery of already limited humanitarian and medical aid. Those trapped in Daraa al-Balad are struggling on a daily basis to find food, water and medication, especially after the only medical point was forced to shut down after being hit by the government's shelling. Scant supplies are trickling through smuggling routes to be sold for exorbitant prices that only a few can afford.
"Civilians are paying the price for battles they have never chosen. The Syrian government must immediately lift the siege to facilitate unfettered access for humanitarian organizations and allow the medical evacuation of the sick and injured," said Diana Semaan, Amnesty International's Syria researcher.
"All parties to the conflict must end unlawful attacks, grant safe passage to civilians wanting to flee the area and comply with international humanitarian law at all times."
Between 18 till 24 August, Amnesty International spoke with four individuals in Daraa al-Balad, namely a doctor, an activist, two residents, as well as two humanitarian workers.
One humanitarian worker told the organisation that there is only enough food in Daraa al-Balad to last two weeks to a month. There is no electricity or medication available. The worker added that no humanitarian aid organization has been allowed into the besieged area– the Syrian government is only allowing aid distribution to internally displaced persons (IDPs) outside the besieged area.
Source: Amnesty