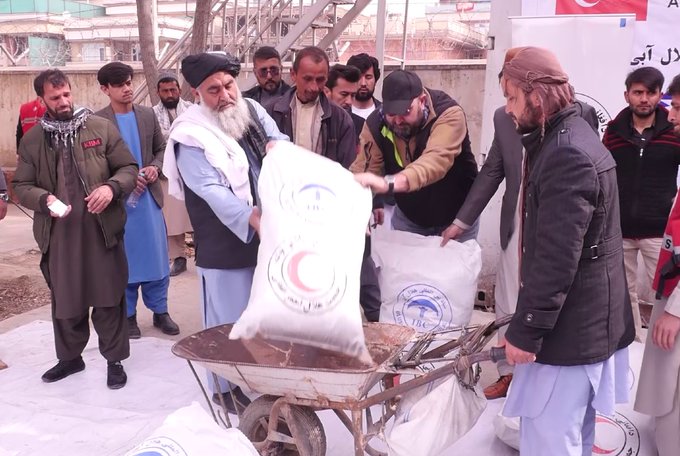 At least 250 vulnerable families were provided with basic humanitarian assistance by the International Blue Crescent Relief and Development Foundation (IBC) in capital Kabul on Saturday.
Aramudeen, a laborer who is struggling with poverty, came along with several other vulnerable people to receive the donation.
"There is nothing I can do. They said they would give us food and donations. So, I came here," he said.
The IBC also promised to provide further donations to vulnerable people in Afghanistan.
"We have been following the situation in Afghanistan for the past 20 years. We have deep sympathy for the people of this country," said an official of the IBC.
"We stress transparency. A survey is being conducted by the teams. They recognize the vulnerable people," said Noor Agh Sahibzada, a spokesman for the Afghan Red Crescent Society.
The people who received the aid said that they need food materials instead of winter clothes.
"We don't think it is necessary. The winter is over. The people need food materials in the current situation," said a resident of Kabul.
Meanwhile, some people who are struggling with poverty complained that the aid has not been distributed in a transparent way.
"My husband and I are ill. It has been several days that we have come here but no one considers our situation. The aid is going to those who (know aid officials)," said a woman.
"We have come here for the past four weeks but have not received aid," said Pacha Khan, a person in need.
This comes as many international humanitarian organizations including thereported that over half of the Afghan population is in grave need of humanitarian assistance.
Source: Tolo News