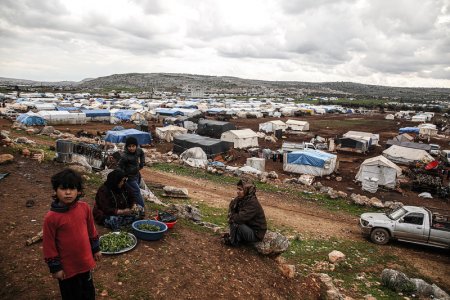 On the eve of the fifth Brussels conference for Syria, the United Nations humanitarian, refugee and development chiefs have urged international donors to step up and stand with the millions of people in Syria and the region who depend on lifesaving humanitarian aid and livelihood support after a decade of war.
With the added impact of COVID-19, there is no respite for civilians in Syria. They face increasing hunger and poverty, continued displacement and ongoing attacks. The neighbouring countries host four out of five Syrian refugees worldwide, in what remains the world's largest refugee crisis, while also trying to address increasing socio-economic challenges for their own nationals.
Today 24 million people need humanitarian or other forms of assistance in Syria and the region. That is four million more than in 2020, and more than at any other time since the conflict began.
Sustained donor financing for the UN's response plans will fund food, water and sanitation, health services, education, child vaccinations and shelter for millions of people living on the brink in Syria. It will also provide cash assistance, job or training opportunities, and other services such as access to primary and secondary education, in conjunction with national systems, to millions in Jordan, Lebanon, Turkey, Iraq, and Egypt.
In 2021, over US$10 billion is needed to fully support Syrians and refugee-hosting communities in need. This includes at least $4.2 billion for the humanitarian response inside Syria and $5.8 billion to support refugees and host communities in the region.
UN humanitarian chief Mark Lowcock said: "It has been ten years of despair and disaster for Syrians. Now plummeting living conditions, economic decline and COVID-19 result in more hunger, malnutrition and disease. There is less fighting, but no peace dividend. More people need more help than at any point during the war, and children must return to learning. An investment in kindness and humanity is always good but sustaining the basic living standards for people in Syria is also an essential ingredient of sustainable peace. That is in everybody's interest."
Source: OCHA , UNDP ,  UNHCR