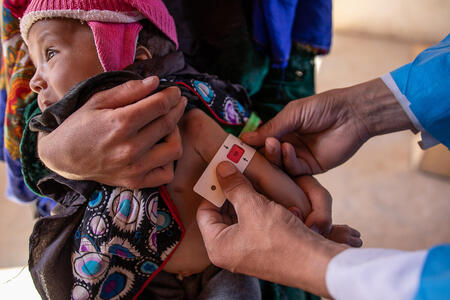 The number of dangerously malnourished children admitted to Save the Children's mobile health clinics in Afghanistan has increased by 47% since January this year, with some babies dying before managing to receive any treatment, the children's charity said today.
Demand for malnutrition treatment services has surged in recent months as families struggle to cope with Afghanistan's worst hunger crisis on record. In January, Save the Children's 57 mobile health teams admitted about 2,500 malnourished children for treatment. By September, that number had jumped to around 4,270 children admitted by 66 teams, according to newly released data.[i]
Experts had hoped to see a drop in hunger levels in Afghanistan during the recent summer harvest season, but the ongoing drought has led to failed crops and harvests have been much smaller than normal, forcing many rural families to sell land and livestock to buy food to feed their children.
The other major driver of the food crisis – the collapse of the country's economy – has caused unemployment, poverty and food prices to skyrocket, with many families now only surviving on bread and water for weeks at a time.
Source: Save the Children