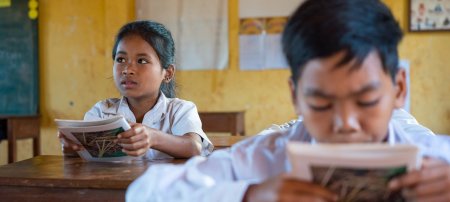 A year into the COVID-19 pandemic, children across the world have lost an average of 74 days of education each due to school closures and a lack of access to remote learning, Save the Children said today – more than a third of the standard global 190-day school year.
In total, an estimated 112 billion days of education[i] have been lost altogether, with the world's poorest children disproportionately affected.
New analysis by the child rights organisation of data for 194 countries and different regions shows that children in Latin America and the Caribbean, and South Asia, missed out on almost triple the education of children in Western Europe.
Broken down at regional level, the difference in lost days of education becomes painfully clear, Save the Children said:
• Both in Latin America and the Caribbean, and South Asia, children went through around 110 days without any education;
• Children in the Middle East lost 80 days of education;
• Children in Sub-Saharan Africa lost an average of 69 days;
• In East Asia and the Pacific, children lost an average of 47 days;
• In Europe and Central Asia, children lost out on an average of 45 days;
• In Western Europe alone, it was 38 days.
Inger Ashing, CEO of Save the Children, said:* "Almost a year after the global pandemic was officially declared, hundreds of millions of children remain out of school. 2021 must be the year to ensure that children do not pay the price for this pandemic."*
A spike in school closures started in February 2020, and on March 11th the pandemic was declared, pushing 91 percent of the world's learners out of school at its peak.
As schools closed and remote learning was not equally accessible for all children, the biggest education emergency in history widened the gap between countries and within countries, Save the Children said. The divide grew between wealthier and poorer families; urban and rural households; refugees or displaced children and host populations; children with disabilities and children without disabilities.
Santiago, 13, attends a school for children with a profound hearing loss supported by Save the Children in Venezuela. The school has been closed since the start of the pandemic. He said: "What makes me feel sad, worried, and scared is not being able to return to school, because I like school. People understand me there. When I can´t go to school, I cry and just want to sleep. What I would tell the children in the world who are feeling sad or scared or worried is that they are my friends. And that they are not alone."
Jonathan*, 15, a Save the Children child rights campaigner in a refugee camp in Uganda, has like many children missed out on schooling over the past year. He is worried for his friends who he has seen drop out of school permanently due to school closures and end up working, pregnant or in early marriages. He said: "I feel bad when other children are not going to school. Because without education no one can get success. So, you find that if you do not go to school, it will be hard on your side. You will not understand, you will always be illiterate. So, you find that it's very difficult."
There have also been huge discrepancies in access to learning in wealthier nations during the pandemic, Save the Children said.
Students in the U.S. for example are more disconnected from the internet than students in other high-income countries, which likely also impacted their access to remote learning. Only two EU countries have lower levels of internet access than the U.S. – Bulgaria and Romania.[ii] At the start of the pandemic, upwards of 15 million students from kindergarten through to high school in U.S. public schools lacked adequate internet for distance learning at home.
Other wealthier countries also struggled to provide equal online alternatives for school-based learning. In Norway, while almost all youth between 9 and 18 years old has access to a smartphone, 30 percent did not have access to a PC at home. In the Netherlands, one in five children does not have a PC or tablet for home learning.
Source: Save the children