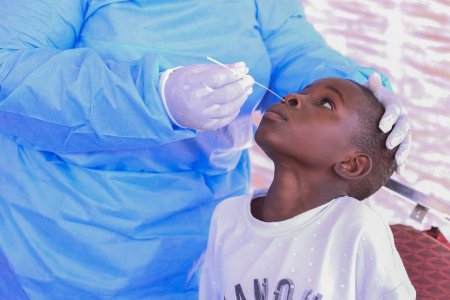 A new assessment by the World Health Organization (WHO) shows that only 14.2% – or one in seven – COVID-19 infections are being detected in Africa. To reverse that trend and curb transmission, the WHO Regional Office for Africa today announced a new initiative to enhance community screening for COVID-19 in eight countries. The programme aims to reach more than 7 million people with rapid diagnostic tests in the next year.
The WHO analysis used the COVID-19 calculator developed by Resolve to Save Lives which estimates infections based on reported number of cases and deaths and an infection fatality rate grounded in population-based studies. It found that as of 10 October 2021 the cumulative number of COVID-19 infections is estimated to be 59 million in Africa, which is seven times more than the over 8 million cases reported.
To date, COVID-19 detection in Africa has focused on people reporting to health facilities with symptoms, in addition to testing arriving and departing international travellers, leading to large-scale under-reporting given the high percentage of asymptomatic cases on the continent.
Since the start of the pandemic and as of 10 October, more than 70 million COVID-19 tests have been reported by African countries, which is a fraction of the continent's 1.3 billion people. By contrast, the United States, with about a third of the population, has reportedly administered over 550 million tests, while the United Kingdom, with less than 10% of the population of Africa, has administered over 280 million tests.
Source: WHO