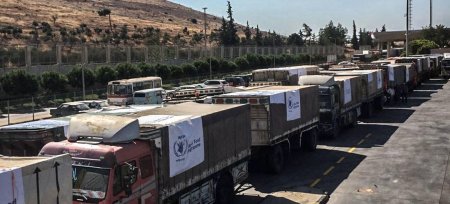 The Security Council — acting in a rare moment of unanimity on the complex, decade-long Syrian conflict — today adopted a compromise resolution extending the use of the Bab al-Hawa border crossing for the delivery of humanitarian aid for six months, with the expectation of a subsequent renewal for another six months, until 10 July 2022.
Unanimously adopting resolution 2585 (2021), the 15-member Council extended its previous authorization of the Bab al-Hawa crossing point, on Syria's border with Turkey, which was first laid out in paragraphs 2 and 3 of resolution 2165 (2014). Those authorizations apply only to Bab al-Hawa, and not to several other crossing points whose use was previously curtailed by the Council. The second six-month extension remains pending, subject to the issuance of a substantive report by the Secretary-General on transparency in aid delivery operations and progress on cross-line access, but is anticipated according to today's resolution.
Also by the terms of the text, the Council demanded the full and immediate implementation of all its previous relevant resolutions. It called upon Member States to respond with practical steps to address the urgent needs of Syria's people in light of the profound socioeconomic and humanitarian impact of the COVID-19 pandemic, and requested the Secretary-General to brief members monthly and provide regular reports, at least every 60 days, on the implementation of its resolutions and compliance by the parties.
It further requested the Secretary-General to include in his reports overall trends in United Nations cross-line operations — in particular on the implementation of efforts to improve all modalities of humanitarian deliveries inside Syria and early recovery projects — as well as detailed information on the humanitarian assistance delivered through United Nations humanitarian cross-border operations. That should include details on the distribution mechanism, the number of beneficiaries, operating partners, locations of aid deliveries and the volume and nature of items delivered.
Source: UN SC