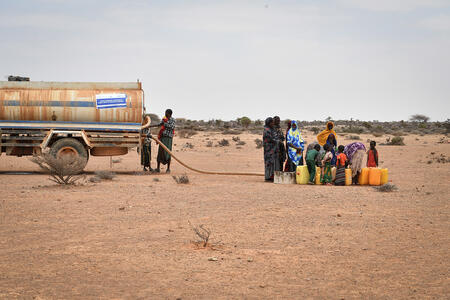 The current extreme, widespread, and persistent multi-season drought affecting Somalia, the arid and semi-arid lands of Kenya, and Ethiopia's Belg-receiving and eastern and southern pastoral areas, is unprecedented.
Four consecutive rainy seasons have failed, a climatic event not seen in at least 40 years. The latest long-lead seasonal forecasts, supported by a broad consensus from meteorological experts, indicate that there is now a concrete risk that the October-December (OND) rainy season could also fail. Should these forecasts materialize, the already severe humanitarian emergency in the region would further deepen.
The 2022 March-May rainy season appears likely to be the driest on record, devastating livelihoods and driving sharp increases in food, water, and nutrition insecurity. An estimated 3.6 million livestock have died in Kenya (1.5 million) and Ethiopia (2.1 million). In the worst-affected areas of Somalia, FEWS NET/FSNAU estimate that 1-out-of-3 livestock have perished since mid-2021. Over a million people have been displaced in Somalia and southern Ethiopia.
Existing water deficits have been exacerbated by very high air temperatures, which are forecast to continue into the June-September dry season. Rangeland conditions will deteriorate faster than usual, driving additional, widespread livestock deaths, as well as population displacements. In cropping areas, harvests will again be well below average, causing a prolonged dependency on markets, where households will have limited food access due to high food prices.
Source: Columbia University, FAO, FEWS NET