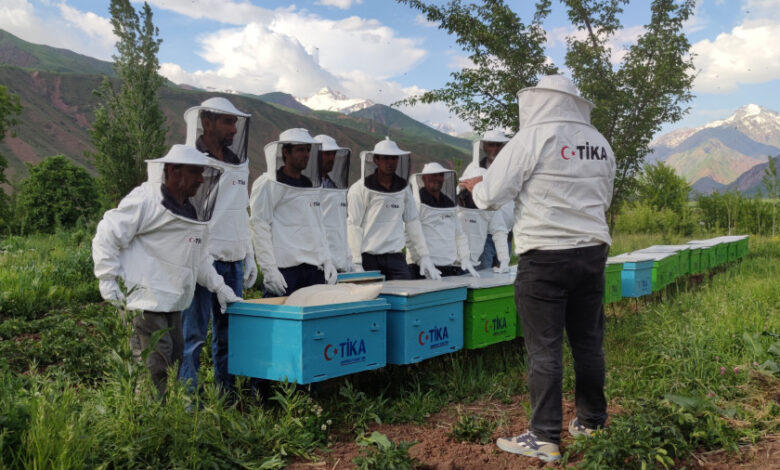 Due to the fact that 93% of Tajikistan's surface area consists of mountains, the sufficient lands for agriculture in the country are extremely limited; although the current geographical conditions are extremely suitable for beekeeping. The climate and nature being suitable for beekeeping also lead families to this field of income. While the country has the potential of 1 million beehives, there are currently 223,200 beehives in the country.
As part of the Tajikistan Beekeeping Development Program initiated by TIKA, 20 hives each and the necessary equipment needed for beekeeping were delivered to 25 families in need in Sangvor, located in the southeast of Tajikistan, and Shahriston, in the north. On the other hand, 25 hives of bees and other necessary tools and equipment were delivered to the Romit Veterans and Retirees Treatment and Rehabilitation Center affiliated to the State Social Security Agency of the Ministry of Health and Social Security of Tajikistan. While a total of 525 beehives were supported within the scope of the project, the families benefiting from the project were given a 5-day basic training on beekeeping.
Since Sangvor and Şahriston regions, which are supported by beehives, are the leading districts of the country in the field of beekeeping, a beekeeping training center was established in each district in order to ensure the continuity of education.
In his speech, Tajikistan Ministry of Agriculture Official Halimov stated that this project of TIKA, which was personally dealt with by the Tajikistan Minister of Agriculture, is an important support for the two districts, thanked TIKA and the Turkish people for the project, and underlined that they want to continue working with TIKA in this area in the coming years.
SOURCE: TIKA