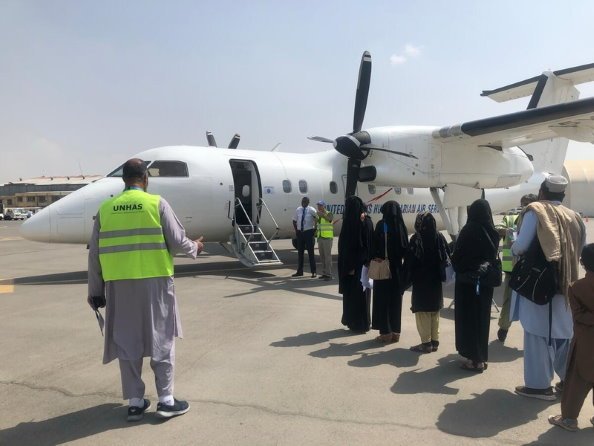 With over 90 percent of families struggling to eat enough, and a growing humanitarian crisis across the country, aid agencies are scrambling to meet massive needs before it is too late, with the approaching winter likely to cut off parts of the country entirely, leaving millions of vulnerable Afghans with little to survive on.
UNHAS flights – which are led by the United Nations World Food Programme (WFP), have been up and running since 29 August, connecting Islamabad, Pakistan to the Afghan towns of Mazar-i-Sharif, Kandahar and Herat. The air link to Kabul restarted on 12 September after a temporary halt following Taliban takeover on 15 August. UNHAS is also transporting non-food items, such as medical and other emergency supplies. Three cargo flights have been completed, bringing in medical supplies on behalf of WHO.
"The restarting of flights into Kabul marks a turning point," said Mary-Ellen McGroarty, WFP Afghanistan Country Director. "Getting aid workers and relief cargo into and around Afghanistan is vital if we have any hope of preventing a total catastrophe."
However, US$30 million is required from donors to keep the vital air services going – this on top of the US$200 million WFP urgently requires replenishing its food pipeline and transport supplies into the country before the winter sets in.
Through its six field offices across the country, WFP has been stepping up its operations. Food convoys are moving across the country and in August alone more than 400,000 people received assistance. However, to avert a humanitarian catastrophe, much more is needed. WFP needs to reach nine million people a month by November if it is to meet its planned target of 14 million by the end of 2021.
Source: WFP