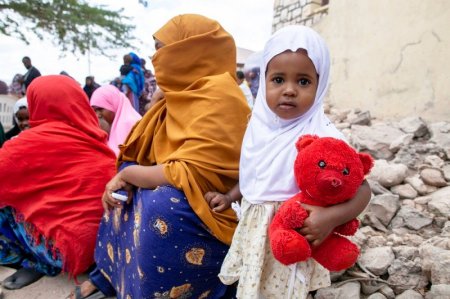 "Humanitarian needs have increased significantly in 2021 but the funding to respond to these needs is the worst in six years," said Mr. Adam Abdelmoula, the Deputy Special Representative of the United Nations Secretary-General, Resident and Humanitarian Coordinator for Somalia. "Humanitarian partners can barely meet the basic needs of hungry families, desperate communities and displaced women and children."
Almost half the Somali population needs humanitarian aid. In addition, 2.9 million people remain displaced from their homes; 2.8 million will need urgent food assistance by September; a million children are malnourished. The humanitarian situation has been aggravated by a double climate disaster – drought in some parts of the country and flooding in others – and the impact of political tensions, COVID-19 and the worst desert locust infestation in years.
Yet despite the dire situation, only 26 per cent of the US$1.09 billion funding needed for the 2021 Somalia Humanitarian Response Plan has been provided. Some components of the response, including education, shelter and coordination for displaced persons' camps, have received less than 2 per cent of the funding needed. Already, humanitarian agencies are being forced to scale down or suspend life-saving assistance; a situation that will worsen if the funding gap is not immediately addressed. Up to 3 million people could lose access to essential health care services, 1.7 million to safe water and improved sanitation and 250,000 children will face potentially life-threatening malnutrition.
Source: OCHA