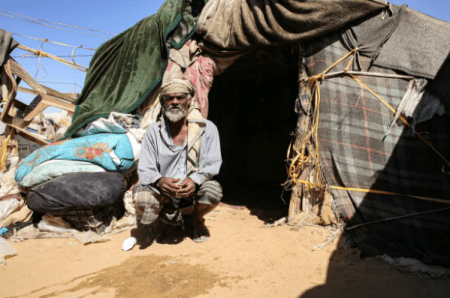 Dotted across Marib governorate, in northeast Yemen, are 134 camps – temporary home to Yemenis displaced from their homes by the six-year-long conflict, African migrants stranded in Yemen, and members of a vulnerable minority group from Yemen known as Al-Muhamasheen.
Before the start of the conflict, Marib was home to almost 400,000 people, according to local authorities. Now, it hosts nearly 2.7 million people, including those displaced from elsewhere, all looking for a safe haven.
However, Marib is no longer a safe place to be. In recent weeks, the frontlines of the conflict have moved eastwards into the governorate. On 8 February, fighting escalated in Sirwah district, to the west of Marib city, causing large numbers of injuries and forcing some 10,000 people to flee, and about 600 families have settled in a camp about 20 kilometres outside of town. Teams from Médecins Sans Frontières (MSF) donated essential drugs to hospitals in Marib to help them cope with the influx of wounded, and have started providing basic healthcare to the newly displaced people.
As the frontlines approach Marib city, MSF is concerned that people sheltering in the area may find themselves with no place else to go.
Um Marzouk is a 30-year-old mother of five from Nehim, in Sana'a province. Displaced multiple times by the conflict, she and her family now live in Al-Sweida camp, five kilometres from Marib city.
"We have been displaced five times because of fighting," says Um Marzouk. "It is difficult now even to think of returning to our home in Nehim because it was completely destroyed. Two of my children were born in different camps and it was so hard – I gave birth to one child with no medical care at all."
Um Marzouk's family is just one of thousands who have sought refuge in Marib over the past six years, mostly from the provinces of Al-Jawf, Saada, Hajjah, Hodeidah and Sana'a. Um Marzouk's three-year-old daughter Jadel was born in Al-Sweida camp. Life in a camp, with no running water or electricity, is all she has ever known. When shown a drawing of a house, she looks blank, but a drawing of a tent immediately brings a smile of recognition to her face.
Source: MSF