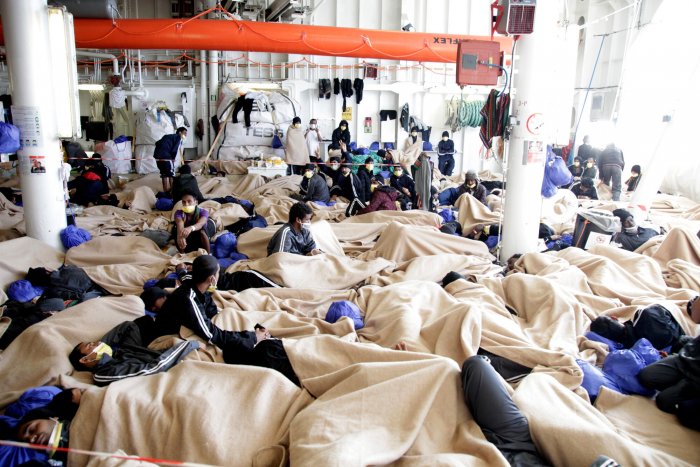 After six separate rescue operations in three days on board the Geo Barents search and rescue ship, Médecins Sans Frontières (MSF) teams have rescued 439 people from the Central Mediterranean Sea who had fled Libya in search of safety.
After two requests for a place of safety to the Maltese authorities were ignored and then denied, MSF calls on the Italian authorities for a safe port for disembarkation. The Geo Barents needs to urgently disembark all 439 survivors so that they can begin to receive the assistance they need with respect and dignity.
The Geo Barents began its seventh rotation in the Central Mediterranean on 14 January, leaving the Sicilian coast and travelling south to the Libyan Search and Rescue (SAR) zone. Between 19-21 January, our teams monitoring the sea responded to multiple capsized and shipwrecked boats with people in distress and managed to bring all people safely aboard.
Among the 439 survivors on board the Geo Barents, many come from Eritrea, Bangladesh, Pakistan, Sudan and Egypt. The majority are men and 112 are minors – most of whom are unaccompanied. There are also nine women and three very small children, the youngest of whom is under one year old. All have fled Libya and travelled for many hours, risking their lives on unseaworthy boats.
"The third time they caught me at sea I was taken to prison. The prison guards told me that I had to pay to be freed," says Jimmy*, a shipwreck survivor who was safely brought aboard the Geo Barents.
Source: MSF