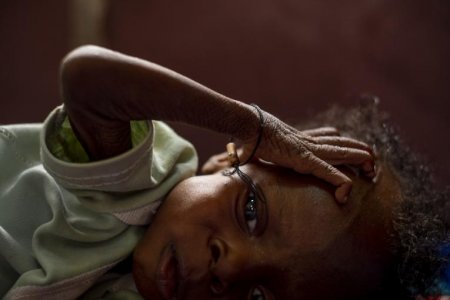 "According to the latest estimates, at least 168,000 children were forced to flee their homes by widespread violence in the run-up to and following general elections of last December in the Central African Republic (CAR).
"370,000 children are now internally displaced across the country because of ongoing violence and insecurity.
"This is the highest level of child displacement in the country since 2014.
"UNICEF is warning of the mounting risks for children, including exposure to sexual and physical violence, recruitment to armed forces and groups, increasing rates of malnutrition and limited access to essential services.
"We are extremely concerned about the fate of the thousands of children who, after seeing their lives turned upside down by conflict and violence, may now experience the additional trauma of being forced to join and live among armed actors, to engage in combat, putting both themselves and the lives of others at extreme risk.
"53 per cent of the population, half of whom are children, need humanitarian aid.
"At a time of increasing insecurity, and when we risk reducing our field presence, UNICEF's humanitarian strategy remains to "Stay and deliver".
"While we continue to advocate for safer and unrestricted humanitarian access, UNICEF works through national and international NGOs, or by temporarily deploy its own staff when there are no available partners, to reach those in need with lifesaving support, including health, protection, water and sanitation, as well as education.
SOURCE: UNICEF