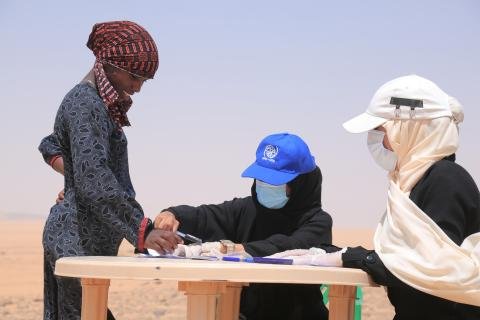 One year on from the start of the COVID-19 pandemic response, an unprecedented number of people are grappling with the effects of crises and are in dire need of aid and protection. The International Organization for Migration (IOM) announces today that it aims to meet the needs of an estimated 50 million people displaced or affected by crises through its 2021 Crisis Response.
According to the Global Humanitarian Overview, compiled by the UN Office for the Coordination for Humanitarian Affairs (OCHA), over 229 million people will need humanitarian aid and protection in 2021, a 40 per cent increase compared to the same time last year. Conflict, disasters and instability continue to erode the resilience of communities, driving tens of millions of people to move in search of safety. Millions of migrants have also become stuck in crises and struggle to access essential services.
"COVID-19 has tragically exacerbated the suffering and insecurity facing hundreds of millions of people around the world," said IOM's Director General, António Vitorino.
To adequately respond to increasingly complex crises around the world, IOM will require USD 3 billion in the year ahead. The Organization's Crisis Response Plans present IOM's proposed comprehensive responses to urgent humanitarian protection and assistance needs, as well as the longer-term impacts of crises and displacement.
Today, the Organization begins the rollout of 23 national and regional Crisis Response Plans on its Global Crisis Response Platform and plans to publish more than 20 additional plans in the coming weeks.
"IOM remains steadfast in our commitment to provide relief and recovery to communities affected by crises and calls on the international community to step up their efforts by supporting our 2021 Crisis Response Plans," added Vitorino.
Through its comprehensive response plans, the Organization's strategic efforts will continue to focus on providing life-saving protection and relief to the most vulnerable, in tandem with initiatives to address recovery needs and strengthen resilience to future risks — efforts which are supported by robust data and analysis.
For example, in Yemen, where COVID-19 mobility restrictions have left 14,500 migrants stranded and destitute, IOM provides emergency food, health and protection assistance. The Organization also works with governments to conduct nationality verifications and voluntary humanitarian return for those who want to return home.
Recently, in Mozambique, IOM evacuated families who lost their homes to Cyclone Eloise to safer accommodation and improved the drainage in homes to prevent flooding, destruction and displacement.
Source: IOM