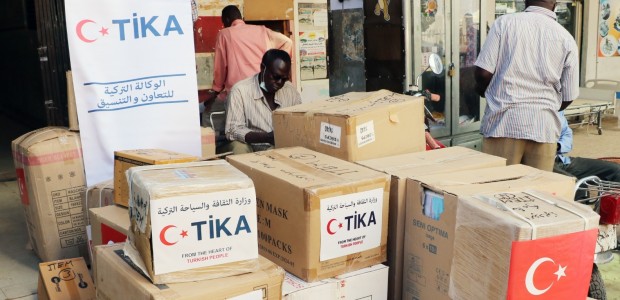 Oxygen measuring devices supplied by TIKA such as but not limited to: thermometer, visor face protection masks, face masks, gloves, disinfectants, surgical gown, equipment such as pumps for disinfection procedures, were delivered to Niyal Sudan-Turkey office in Khartoum of Education and Research Hospital.
TİKA had previously provided 100 visor face masks to the Ministry of Health in the Vocational Training Center in the capital Khartoum and medical supplies to the Eastern Darfur Governorate to combat COVID-19.
Nyala Sudan, Turkey Education, and Research Hospital got built by TIKA
In the capital of South Darfur state Nyala, Nyala in Sudan-Turkey Training and Research Hospital was made by TIKA in 2014. The hospital is operated by the Ministry of Health. It's located in the center of the region due to its location, and provides healing to patients not only from Sudan, but also from Cameroon, Chad, Gambia and other neighboring countries.
Since 2014, Turkish specialist physicians have been providing training to Sudanese healthcare personnel and physicians in the 150-bed hospital, which provides treatment services in almost every field including obstetrics, children, pathology, radiology, internal medicine and urology.
The hospital has 3 operating rooms, 14-bed child and newborn department, and 8-bed adult intensive care units. 120 thousand patients benefit from the hospital annually. Approximately 50 Turkish and 280 Sudanese health personnel are serving in the hospital, where all kinds of operations except organ transplantation are performed.