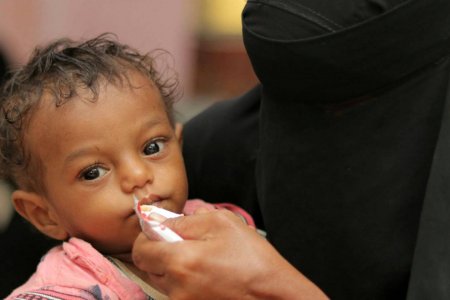 "War overshadows everything," said Martin Griffiths, briefing the Council for the first time in his capacity as Under-Secretary-General for Humanitarian Affairs and Emergency Relief Coordinator. The offensive in Ma'rib Province and clashes along nearly 50 other front lines have reportedly killed or injured more than 1,200 civilians, with collapsing public services depriving people of clean water, sanitation, education and health care, and cholera and COVID-19 spreading under those conditions.
With 20 million people in need of humanitarian assistance and protection, he said a decimated economy is pushing the country to the brink. He stressed that 5 million people are one step away from succumbing to famine and the diseases that go with it, and 10 million more are right behind them. "Famine is not just a food problem, it's a symptom of a much deeper collapse," he warned, as people are starving not because there is no food, but because they cannot afford it.
He said incomes are disappearing, especially salaries for civil servants, who represent a quarter of the population. Paying them would "put money in people's pockets" and keep services running. The collapsed Yemeni currency is especially disastrous for a country so dependent on imports, he said, emphasizing that a ceasefire will give desperate civilians a break and create the space needed to address the drivers of the crisis.
Echoing that call, Henrietta Fore, Executive Director of the United Nations Children's Fund (UNICEF), said 2.6 million children are now internally displaced, deprived of health care, education, sanitation and safe water. Yemen's gross domestic product (GDP) has dropped 40 per cent since 2015, and despite the availability of food, 21 million people — including almost 11 million children — require humanitarian aid. Twenty million lack access to health services.
Source: UN SC