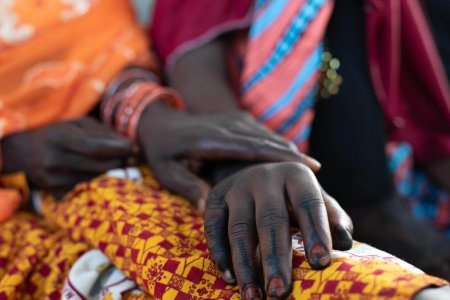 A new analysis from the International Rescue Committee (IRC) finds that 15 million people in need, mainly women and girls, are currently left out of Gender-Based Violence (GBV) service provisions. Despite some minimal, but encouraging increases in the requests for GBV funding between 2020 and 2021, across the 10 humanitarian 2021 response plans available, the average GBV funding request is only 3% of the total needed, with less than $11 allocated per person in need of support.
Despite the acknowledged GBV "shadow pandemic" driven by COVID-19, the IRC analysis further found that GBV funding did not grow proportionally alongside need nor COVID-19 funding requests, and in some cases, GBV funding requests actually declined. On average, overall humanitarian funding requests in conflict and crisis-affected countries increased by more than 19%, yet GBV specific-funding requests increased by only 1.2%, with three countries out of 11 analyzed showing there was a decrease in GBV funding requests.
"We know that crises of any kind impact women and girls differently," said Nicole Behnam, Senior Director for Violence, Prevention and Response, International Rescue Committee. "And while COVID-19 has brought increased rhetoric around the different ways women and girls experience a crisis, old patterns are still being repeated. Not only is GBV not adequately accounted for, but in some instances, we are seeing already limited resources being diverted to other areas, all in the name of COVID-19. We are especially concerned that, as humanitarian need increases overall, more women and girls at risk of GBV are being left behind as GBV still isn't a priority in practice."
In response to COVID-19, the IRC adapted its programming to keep GBV services open and running. In many places, this required investing in remote services – such as using mobile phones instead of getting together in person – or cutting back on the number of women and girls in a safe space at one time.
Because of long ingrained gender inequalities, the secondary impacts of COVID-19 have not only led to substantial increases in reports of GBV, but seen more women lose their jobs than men, spotlighted the disproportionate impacts of unpaid caregiving on women and girls, left 20 million girls at risk of not returning to school, and so much more. Yet, across COVID-19 response plans and recovery efforts, women and girls remain insufficiently accounted for. This stems from the fact that women are often under-represented when response plans are drafted and enacted.
Source: IRC