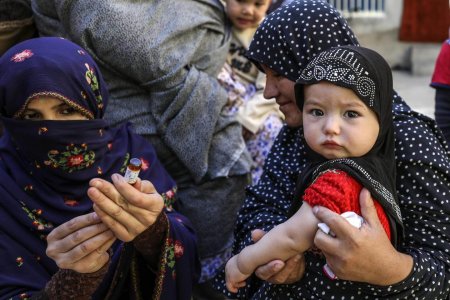 Today Dr Faisal Sultan, Special Assistant to the Prime Minister on Health, launched a nationwide campaign to vaccinate more than 90 million children against the deadly measles and rubella viruses across Pakistan, in what is bound to become one of the biggest campaigns in the world, despite the challenges of the COVID-19 pandemic.
More than 386,000 health professionals, including 76,000 vaccinators and more than 143,000 social mobilizers, are mobilised for the two-week campaign, which is supported by Gavi, the Vaccine Alliance, UNICEF, WHO and partners. The initiative targets children aged between 9 months and 15 years; those aged up to five will also receive the oral polio vaccine.
"As part of our ongoing efforts to protect children's lives through immunisation, Pakistan is proud to launch one of the largest measles rubella campaigns in the world, which will target millions of children. I would like to thank our partners Gavi, UNICEF and WHO for their support and to encourage families across the country to take advantage of this opportunity to get their children vaccinated at no cost," said Dr Faisal Sultan, Special Assistant to the Prime Minister on Health.
The campaign will be conducted in public and private health facilities, outreach centres as well as educational facilities, for 12 days from 15th November to 27th November. Nearly half of the children who are to be immunised are enrolled in schools.
Source: GAVI, Govt. Pakistan, UNICEF