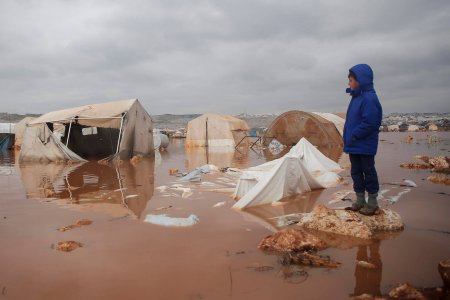 Sub-zero temperatures, floods and soaring food prices – combined with rising cases of COVID-19 and ongoing aid shortages – have rapidly increased the needs across northern Syria at a time when humanitarian access to the area has been severely constrained, NGOs warned today – six months after the UN Security Council voted to further limit access points for humanitarian aid to the country.
Women, men and children are suffering from lack of access to aid, including food, water and medical supplies including oxygen, and funding is falling short of meeting the basic needs of millions of Syrians across the country.
With only 9 hospitals operationalized for COVID-19, 212 ICU beds and 162 ventilators in North West Syria for a population of four million, the overwhelmed health sector is unable to cope with the rise in cases, leading families to desperate measures to survive.
Mahmoud, 48, a father of two, who went to the length of buying his own ventilator, died in Idlib this month in a hospital's corridor, waiting for oxygen. With an alarming 28 percent of people testing positive for COVID-19 in North West Syria's internal displacement settlements as of December 2020, Mahmoud's fate could represent the devastating reality for thousands.
"Six months ago, just as the first case of COVID was confirmed in North West Syria and despite warnings of persistently high levels of need, the UN Security Council voted to close a critical crossing point for humanitarian aid between Turkey and Syria, jeopardizing access to life saving aid for hundreds of thousands of Syrians.
"The now-closed Bab al-Salam crossing had facilitated desperately needed humanitarian assistance including food, shelter and medical supplies such as vaccines and PPE for hundreds of thousands of displaced people in North West Syria, the majority of whom are women and children.
Source: Care