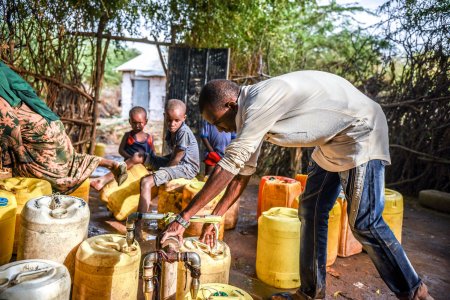 Closing the Dadaab refugee camps, in northern Kenya, and pushing people to return to their home countries will lead to a far worse humanitarian crisis, some refugees currently living in the camps say. This is especially true for those who previously returned to Somalia, but have come back to the camps because of pervasive violence and limited availability of basic services in that country.
Over 200,000 refugees currently live in the Dadaab refugee complex, having arrived in Kenya in several waves over the past 30 years. With Kenya and UNHCR recently announcing the closure of camps in June 2022, many feel fear and uncertainty about what will come next. But they are sure about one thing: they don't want to return to Somalia, the home country for the majority of refugees in Dadaab.
"I would go anywhere else they take me, but Somalia," says 33-year old Halima*, who left the country in 2008.
Now living in Dagahaley — one of the three camps in Dadaab — she felt compelled to go back to Somalia some years back after news reached her that her husband, who had returned to prepare the way for their return to Somalia, had been kidnapped.
But she had barely arrived in Somalia when she too was abducted, along with her five children.
"I was tortured and raped, together with my 12-year-old girl," says Halima. "We were released after a month when our health deteriorated, and we managed to escape to Dadaab again."
When she got to know about the plan to close Dadaab over the radio, Halima says, she could picture her children in their graves, and says, "it broke my heart."
For 64-year-old Ahmed, who had also returned to Somalia through UNHCR's voluntary repatriation programme in 2018, life in Somalia was far from what he had expected.
Source: MSF