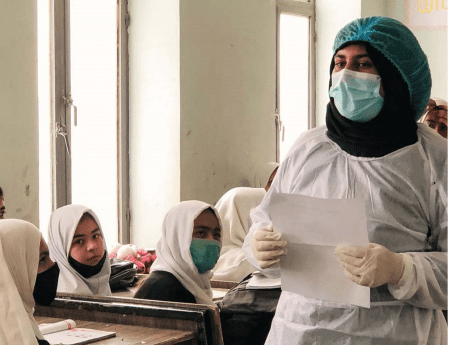 We go into 2021, with 18.4 million people in humanitarian need – nearly half the population. There are nearly six times the number of people needing humanitarian assistance in 2021 compared to four years ago when this multi-year HRP was first developed. The health and socio-economic impacts of the COVID-19 pandemic have seen the number of people in need almost double in the past year alone, with food insecurity soaring as people's livelihoods were lost and their limited financial reserves were depleted. Afghanistan now has the second highest number of people in emergency food insecurity in the world, while nearly one in two children under-five will face acute malnutrition in 2021. While enduringly resilient, people are increasingly desperate, resorting to debt and other more dangerous coping mechanisms to survive including marrying off their young daughters and sending their children to work. Against this backdrop of acute poverty, there are now 30.5 million people who require social assistance from the Government and development actors to help them cope and prevent them slipping into worse humanitarian need.
Over the course of the multi-year HRP, the humanitarian community has proven its capacity to scale-up to meet new needs, initially caused by the 2018-2019 drought and now COVID-19 coupled with escalating conflict. I am proud to say that despite the logistical challenges created by COVID-19 and the worsening security environment, humanitarian organisations have proven their commitment to stay and deliver, complementing the efforts of the Government, and actually increasing their footprint to provide assistance in 99 per cent of districts in 2020. Non-Government Organisations (NGOs) are the backbone of this response and I see a strong and vibrant role for NGOs and the civil society sector in expanding this reach even further.
In 2021, humanitarian organisations have an ambitious plan to reach 15.7 million people with life-saving assistance. This is up from a target of 2.3 million people four years ago. The 2021 HRP requires $1.3 billion and people's survival depends on the 162 dedicated humanitarian organisations operating in Afghanistan receiving sufficient financial resources to deliver a response on this scale. The consequences of late or inadequate funding are very real. Significant unmet needs in 2020 due to funding shortfalls and the acute focus on COVID-19, as well as the slow rollout of complementary development assistance, have all been factors in the worsening outlook for 2021.
Source: OCHA