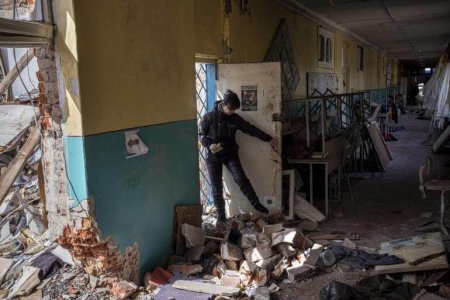 At least one in six UNICEF-supported schools in eastern Ukraine have been damaged or destroyed since the start of the war, including School 36 – the only 'Safe School' in Mariupol – underscoring the dramatic impact the conflict is having on children's lives and futures.
Two schools have been hit by attacks in the past week alone. The damaged or destroyed schools – 15 of 89 – are part of the 'Safe Schools' programme established with the Ministry of Education and Science, primarily in response to attacks on kindergartens and schools in the Donbas region, which has seen a simmering armed conflict since 2014.
Since the outbreak of war in February, hundreds of schools across the country are reported to have been hit due to the use of heavy artillery, airstrikes and other explosive weapons in populated areas, whilst others are being used as information centres, shelters, supply hubs, or for military purposes.
"The start of the academic year in Ukraine was one of hope and promise for children following COVID-19 disruptions," said Murat Sahin, UNICEF Representative to Ukraine. "Instead, hundreds of children have been killed, and the school year ends amid the closure of classrooms due to war and the decimation of educational facilities."
For children affected by crisis, school is critical – providing them with a safe space, and a semblance of normality in the most difficult of times – and ensuring they don't pay a lifelong price for missed learning. Education can also be a lifeline – providing children with access to information on the risks of deadly explosive ordnance and connecting them and their parents to essential health and psychosocial services.
Source: UNICEF