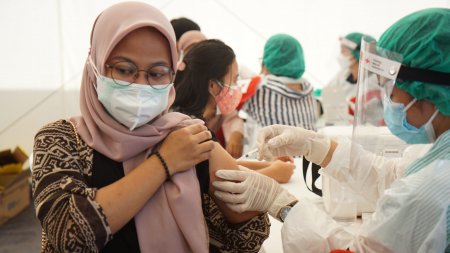 Southeast Asia is battling the world's highest COVID-19 death toll driven by the Delta variant and unequal global distribution of vaccines.
Hospitals remain overwhelmed by record surges across Southeast Asia, from Vietnam to Malaysia and Myanmar as fears mount of greater suffering and loss of life with COVID-19 spreading from cities to rural and regional areas.
In the last two weeks, Southeast Asia has recorded 38,522 deaths from COVID-19, nearly twice as many as North America, according to the John Hopkins University COVID-19 data dashboard.
Alexander Matheou, Asia Pacific Director, International Federation of Red Cross and Red Crescent Societies, said:
"This COVID-19 surge driven by the Delta variant is claiming a tragic toll on families across Southeast Asia and it's far from over. We fear that as the virus spreads from cities to regional and rural areas that many more lives will be lost among the unvaccinated.
"Vaccinations are at record rates in some countries, yet many Southeast Asian nations have low portions of the population fully vaccinated and are languishing far behind Western Europe and North America."
The United Kingdom has fully vaccinated 60 per cent of its population, while Canada and Spain stand at around 64 per cent, according to Oxford University's Our World in Data.
By contrast, Malaysia has fully vaccinated 34 per cent of its population against COVID-19, Indonesia and Philippines, close to 11 per cent and Vietnam less than 2 per cent.
Vietnam, Thailand, Indonesia and most Southeast Asia countries are all battling record COVID-19 infections or death tolls.
Source: IFRC