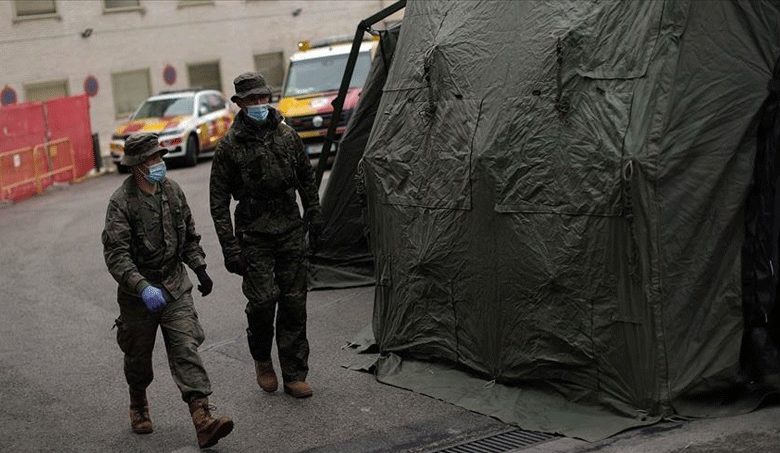 Spanish Prime Minister Pedro Sanchez has announced that some 2,000 soldiers would be deployed in the worst hit areas of Spain to help track cases.
In a live press conference on Tuesday held after the first cabinet meeting following the summer break, the premier admitted that the evolution of the coronavirus was "worrying".
He insisted that powers would remain with the regional governments – effectively ruling out a new state of emergency where the central government would take control – but said extra help would be made available to regional authorities.
The first of these would be deploying 2,000 soldiers to help out in the tracking process – identifying those who may have come in contact with infected persons.
"Regions that do not have enough trackers can count on the help of the Armed Forces," Sanchez insisted after experts blamed a lack of virus trackers for a surge in COVID-19 infections in several Spanish regions such as Madrid and Catalonia
He reminded regional authorities that they could ask the central government to apply a state of emergency, which would allow it to limit people's movements, on part or all of its territory.
The Basque Country took the step to declare a state of emergency earlier this month.
While the rise in infections in Spain is "worrying", it is "far from the situation in mid-March", Sanchez said.
"We can't let the pandemic to once again take control of our lives… we must take control and halt this second curve."
Sanchez urged Spaniards to use a smartphone app designed by the government called RadarCovid which can identify people who have crossed paths with a contagious patient and alert them so they can get tested or be quarantined.
Infections have risen sharply since Spain lifted the lockdown, but deaths have been much lower than during the epidemic's peak.
The country has more than 400,000 confirmed cases of the respiratory disease, the highest in western Europe, and one of the fastest growth rates on the continent.
Nearly 29,000 people have officially died, one of the world's highest tolls, although the deaths recorded are only those who tested postive for covid at hospitals. The true figure, which is includes those who died untested at nursing homes and in their own homes, is thought to be much higher.