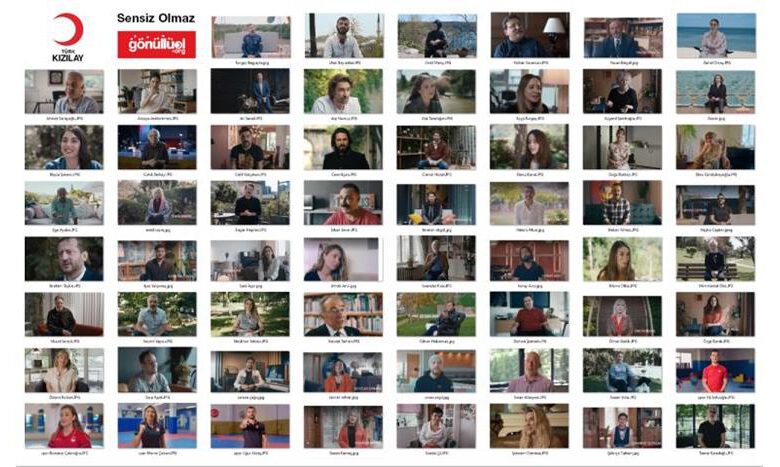 Turkish Red Crescent, whose volunteers and professional staff rush to the aid of those in need despite all kinds of risks, were involved in the movie "Without You" brought to the screen by artists, writers, academics, business people and Olympic athletes.
In the movies that continue in series, the actors draw attention to the importance of Kızılay for the society.
The following names sent video messages to show support to those who always help the people in need:
Hakan Altun, Irmak Arıcı, Serkan Çağrı, Emel Sayın, Ömür Gedik, Koray Avcı, Şükriye Tutkun, Bülent Serttaş, Hayko Cepkin, İpek Acar, İlyas Yalçıntaş, Suzan Kardeş, Yavuz Bingöl, Orhan Hakalmaz, Sinan Akçıl, Azerin, Cahit Berkay, Turgay Başyayla, Ferman Akgül, Sevcan Orhan, Aslı Tandoğan, Ali Sunal, Engin Hepileri, Zuhal Olcay, Doğa Rutkay, Murat Serezli, Beyza Şekerci, Özge Borak, Cemal Hünal, Sinem Uslu, Ayşenil Şamlıoğlu, Deniz Barut, Ümit Meriç Yazan, İskender Pala, Mim Kemal Öke, Osman Şentürk, Ayça Turgay, İbrahim Taşkın, Nevzat Tarhan, Sarp Apak, Ebru Cündübeyoğlu, Hakan Yılmaz, Erkan Sever, Alp Navruz, Şebnem Dönmez, Tamer Karadağlı, Volkan Severcan, Celil Nalçakan, Ahmet Saracoğlu, Neslihan Yeldan, Merve Oflaz, Necmi Yapıcı, Özlem Türkad, Akasya Asiltürkmen, Cem Uçan, Süeda Çil, Sinan Albayrak, Ege Aydan, Ufuk Bayraktar, Ali Sofuoğlu, Uğur Aktaş, Merve Çoban, Busenaz Çakıroğlu.
Source: Turkish Red Crescent