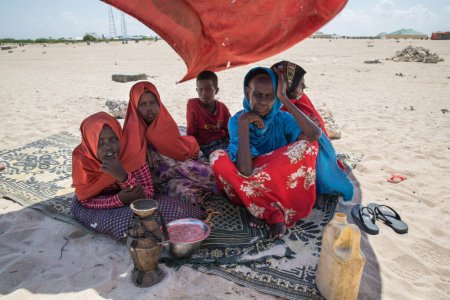 The Federal Government of Somalia and the humanitarian community are alarmed at the rapidly worsening drought in the country. Climate projections show that Somalia is on the verge of a fourth consecutive failed rainfall season and is at the risk of a potentially extreme situation by April 2022.
About 2.3 million people in 57 out of 74 districts (nearly 20 per cent of the population in the affected districts) are ravaged by serious water, food and pasture shortages as water pans and boreholes have dried up. The lack of access to safe, portable water and hygiene and sanitation facilities has heightened the prospect of water-borne diseases. Nearly 100,000 people have abandoned their homes, especially in central and southern areas, in search of food, water and pasture for their livestock, exposing their families to the danger of resource-based conflict over the diminishing resources.
"The situation is grave," said Ms. Khadija Diriye, Federal Minister of Humanitarian Affairs and Disaster Management. "Families are losing their livestock, a key source of livelihood in Somalia, and may starve to death in the coming months. I am particularly worried about children, women, the elderly and disabled people who continue to bear the brunt of Somalia's humanitarian crisis."
The deteriorating situation has compounded vulnerabilities at a time when the number of people who need assistance and protection in Somalia is forecast to rise by 30 per cent from 5.9 million to about 7.7 million in 2022.
Moreover, 71 per cent of all Somalis currently live below the poverty line, especially in areas where humanitarian access is a challenge.
Source: Govt. Somalia, OCHA