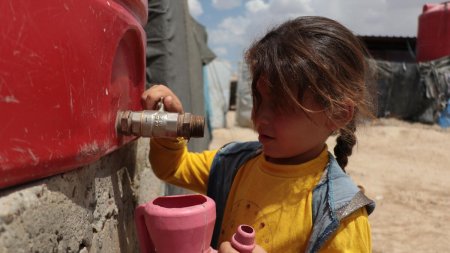 Children's lives in Iraq and North East Syria are hanging in the balance as drought, low levels of water in key rivers, and lack of access to maintain damaged water station infrastructure have put water out of reach for millions, Save the Children said today.
Just weeks before global leaders gather at COP26 to make commitments to tackling the climate crisis, families in the region are already feeling its effects, having been left without farmland, income, food and water, and being exposed to hunger, malnutrition and waterborne diseases. Save the Children is calling on urgent increased humanitarian funding as well as prioritising water scarcity in plans to tackle climate change.
The aid organisation said there have recently been very low levels of water in the Euphrates river, relied upon by people in both Syria and Iraq, as it flows into Syria. People in Iraq also rely on other rivers such as the Tigris and Diyala, which have dried up due to extreme heat and low rainfall over recent years.
Compounding this is the regular interruption and long shutdowns of the Alouk water station in North East Syria, a critical water source for millions of people. While the water station is currently active, since January 2021, the station has seen 89 days of no pumping whatsoever, and 142 days functioning below half of its usual capacity. This left some areas of Hasakeh – one of Syria's largest cities – without access to piped water for two months and humanitarian agencies scrambling to use already limited resources to meet the needs of the city's residents.
Source: Save the Children