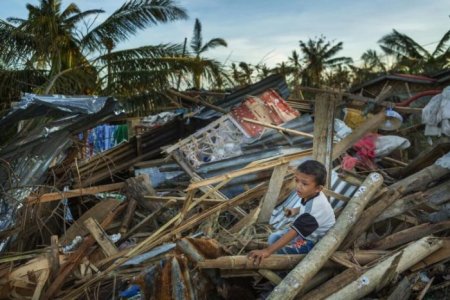 Just over a week ago, Super Typhoon Rai, locally known as Odette, made its first landfall on 16 December 2021, bringing torrential rains, violent winds, floods and storm surges to the Visayas and Mindanao Islands. Overnight, the Typhoon left thousands of families homeless, placing at risk some of the impressive social and economic gains made since recovering from the fallout of the COVID-19 pandemic of the past two years.
I congratulate the Government of the Philippines for their preparedness activities. The effectiveness of pre-emptive evacuation and early warning messaging saved many lives. Together, we are still grasping to understand the full impact on the lives of communities and on the economy. An estimated 16 million people in six of the Philippines 17 regions are affected, leaving about 2.4 million most vulnerable people in need of assistance.
Needs are tremendous. Only days before many Filipinos expected to reunite with family and friends, they now depend on our solidarity. Displaced people require safe, temporary shelter and repair kits to rebuild their homes. Many of them require food, potable water and medicines. People need access to sanitation and hygiene facilities. Planned pilots for school reopenings have come to a halt, worsening the negative psychosocial and mental impacts caused by the COVID-19 pandemic on the lives of children.
The Secretary Locsin of Foreign Affairs, Mr. Theodore Locsin Jr, asked me to coordinate the response of the humanitarian community partners in support of government relief efforts.
Source: OCHA