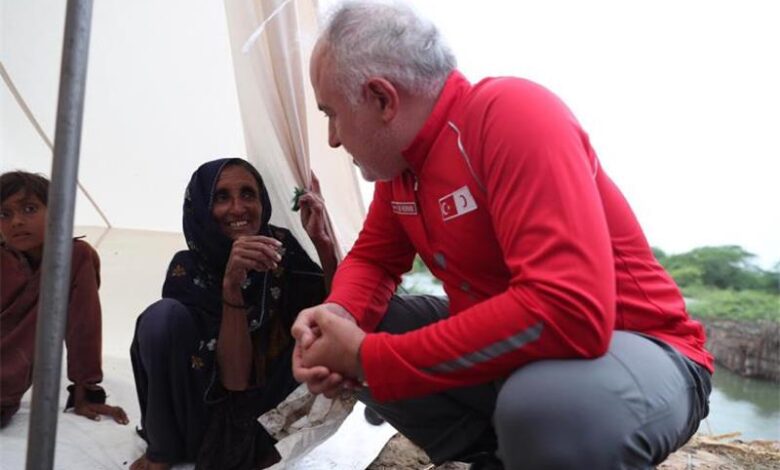 Red Crescent President Dr. Kerem Kınık stated that the disaster in Pakistan was huge and the world's sensitivity to this great disaster was insufficient.
The rise in the water level of the Kabul River as a result of heavy rains caused one-third of Pakistan to be flooded and brought life to a standstill.
After the first minutes of the disaster, the Turkish Red Crescent communicated with the Pakistan Red Crescent through its delegation in Pakistan and determined the needs.
In order to heal the wounds of the flood disaster, which affected nearly 40 million people, the Turkish Red Crescent delivered 100 tons of humanitarian aid material by rail and 25 tons by land to Balochistan, which was the most affected area by the flood.
Making investigations on the latest situation, the President of the Red Crescent Dr. Kerem Kınık stated, "The Indus River has overflowed and has engulfed all the agricultural and residential areas next to it. People are standing on the embankments that were built to prevent the Indus River from overflowing. Previously, there were settlements under this water, which was about 4-5 meters deep. Nearly 2 million homes were destroyed and nearly 40 million people were affected by the flood. It is estimated that about 10 million people are left homeless, 1,400 people lost their lives, 12 thousand people were injured and nearly 1 million animals have perished. Not onl homes, but schools were affected too, 22,000 of them were destroyed. People have taken shelter in the remaining 5,500 schools. Nearly 300 bridges were destroyed,"
Turkish Red Crescent is rapidly working for the quick recovery of the flood area.
Source: Turkish Red Crescent