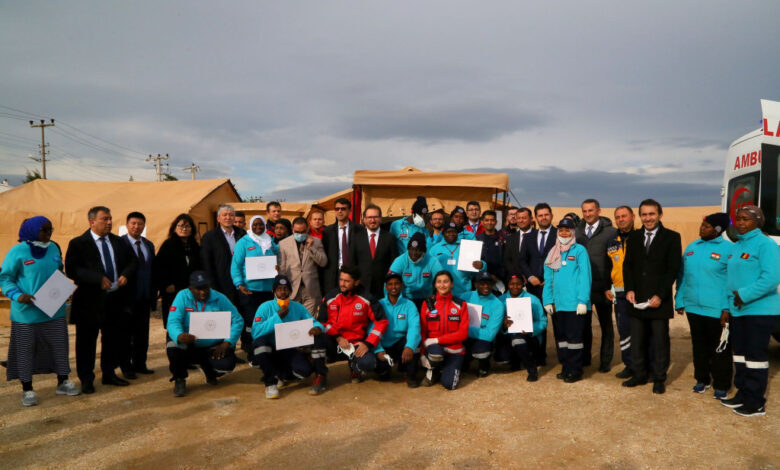 In the first phase of the Introduction to Disaster and Emergency Response Training, developed by TIKA Education Projects Coordinatorship within the scope of ATKAP, 60 trainee candidates were selected among 243 Sudanese emergency health personnel who have attended 8 different trainings held in Sudan and Turkey, successfully completed the training in Turkey and became international trainers.
In the second phase of the project, 28 of these trainers took part with Turkish trainers in the exercise programme held in Chad, Djibouti, Somalia, Guinea Gambia, Senegal, Niger, and Cameroon.
In order to create a local trainer pool in the training held in these countries, 5 personnel candidates were chosen from each country and have participated in the trainings held in the Republic of Turkey between 6-17th December 2021, at the İzmir Urla International Emergency Disaster Training and Simulation Center affiliated to the Ministry of Health. After the this, another training session lasting 2 days was held.
The opening ceremony of the program was attended by Deputy Minister of Health Dr. Şuayipİlk, Vice President of TIKA Dr. Rahman Nurdun, General Manager of Emergency Health Services, Dr. Eray Çınar (Director of the World Health Organization Istanbul Office), Dr. Irshad Ali Shaikh, and Izmir Provincial Health Director Dr. Mehmet Burak Öztop along with many other guests.
Deputy Minister of Health Dr. Şuayip Erken spoke at the ceremony and stated that with the valuable contributions of TIKA and the dedication of the trainers in Turkey, an important step has been taken as a result of the personnels' trainings held in our country, and thanked TIKA for its contributions.
Source: TIKA