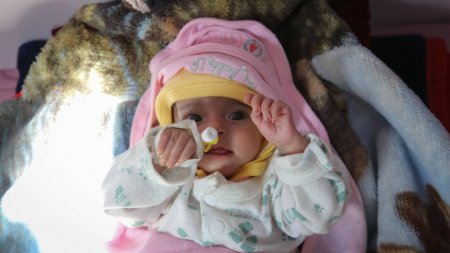 New UN data published projected that more than 2 million children will be malnourished in 2021. An estimated 400,000 of these children will suffer from the most severe form of malnourishment – without care, many of them could die of starvation or diseases.
The data also reveals that around 1.2 million pregnant and breast-feeding mothers will be malnourished by the end of the year, meaning more children are set to be born in hunger.
According to the data, conflict-hit regions such as Taiz, Hodeidah, Sa'ada and Ibb will suffer emergency levels of food shortages (IPC Phase 4). Data from health facilities supported by Save the Children in the North of Yemen, an area already hit hard by funding cuts, showed a 52% increase of malnourished children between July-Dec 2020 compared to 2019.
Four-month-old Noor has been diagnosed with severe acute malnutrition and diarrhoea. Her mother Safiya spoke from one of the hospitals supported by Save the Children in Taiz.
"I took Noor to the hospital. The doctor prescribed milk for her. I used to buy the milk bottle for her for 3000 YER ($12). Now I buy it for 4000 YER ($16). We are suffering because we cannot afford to buy her milk and other [goods].
"We do not want to live [like this] anymore. I'm so depressed. All children are sick. I [have] really lost hope. We do not have the required food. If we have lunch, we do not have dinner. Sometimes my children sleep without dinner or water."
With the conflict in Yemen almost going into its 7th year, the largest humanitarian crisis in the world has been exacerbated by disrupted food supplies, rising fuel prices, a battered health system and a collapse of the economy.
Source:  Save the Children