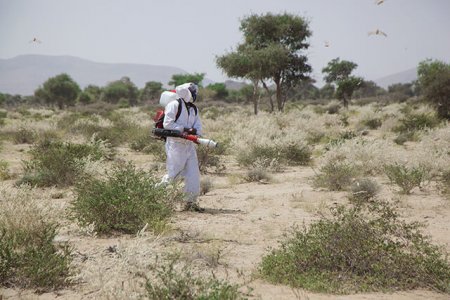 Over 2.6 million people in Somalia are expected to be in extreme food insecurity according to the latest joint technical assessment released by the Food Security and Nutrition Analysis Unit (FSNAU) of the Food and Agriculture Organization of the United Nations (FAO) and the Famine Early Warning Systems Network (FEWS NET). The report cites poor rainfall, flooding and desert locusts among the main contributing factors and warns that the situation could worsen through mid-2021 in the absence of large-scale and sustained humanitarian assistance.
FAO and the Government of Somalia have emphasized the urgency to increase support to sustain ongoing desert locust control and surveillance efforts, and to provide rapid emergency assistance over the coming months.
"Despite relative progress, there has been a new upsurge of desert locusts that has destroyed crops. We will continue working as a combined force to combat the threat of Desert Locusts and mitigate the potential of a more devastating outcome," said Said Hussein Iid, Somalia's Minister of Agriculture and Irrigation.
The report highlights that desert locusts will continue to pose a serious risk of damage to both pasture and crops countrywide through mid-2021. In addition, available forecasts indicate an increased likelihood of below-average rainfall during the 2021 Gu (April-June) season across most of the country, which would further exacerbate food and nutrition insecurity for millions of people.
"With the Government's support, our teams and partners have maintained operations in control and surveillance, while delivering crucial humanitarian assistance and livelihood support during extremely challenging circumstances. Expanding the emergency response is crucial and underway, with a focus on interventions aimed at reducing food consumption gaps, saving lives, and protecting and preserving livelihoods," said Etienne Peterschmitt, FAO Representative in Somalia.
SOURCE: FAO , Govt. Somalia