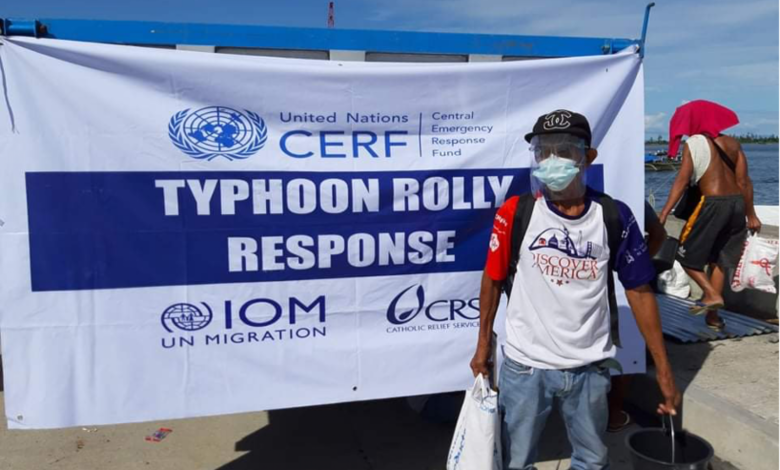 Throughout December, the United Nations (UN) Migration Agency, International Organization for Migration (IOM), and Catholic Relief Services (CRS), an NGO, have been distributing Shelter Repair Kits to households in 17 barangays in the municipalities of Tiwi, Malinao, Malilipot and Tabaco, in Albay province. The Shelter Repair Kit is intended for the emergency repair of a damaged house to make it livable. It consists of corrugated galvanized iron for roofing, coco lumber for posts and framing, nails, hammer, saw and shelter-grade tarpaulin. IOM also started distributing cash assistance this December in the 17 barangays.
On 15 December, five-months-pregnant Rosewinda Callejo, a resident of Tagoytoy, Malinao, Albay, received cash assistance and a shelter repair kit. "Happiness is all I am feeling right now because I have received assistance from you. Thank you so much. Merry Christmas and a Happy New Year," she said.
"End of the year holidays are very important for the Filipino people; it is the time when families come together. This is why the United Nations and its humanitarian partners proudly continue to deliver humanitarian assistance to the very last day of this difficult year. We are not merely rebuilding homes of people most affected by the two typhoons but also bringing them hope and dignity," noted Gustavo Gonzalez, United Nations Resident Coordinator and Humanitarian Coordinator for the Philippines.
IOM's emergency shelter assistance is part of the Central Emergency Response Fund (CERF) support of $3.1 million (PhP 150 million) awarded to the Philippines by the UN Under-Secretary General and Emergency Relief Coordinator, Mark Lowcock. The CERF funding will allow UNICEF, IOM and the UN World Food Programme (WFP) to provide life-saving assistance in water supplies, sanitation services, hygiene, emergency shelter and food to address time-critical needs, particularly of the poorest single-headed households, elderly and people with disabilities in the hardest hit areas of Albay and Catanduanes.
Source: UN