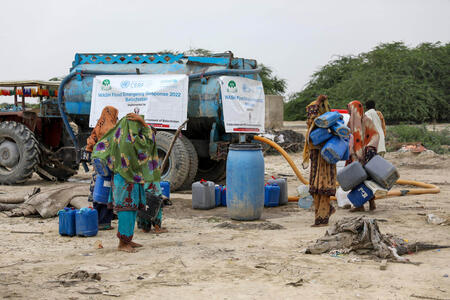 As Pakistan faces a colossal challenge to respond to this climate disaster, UNHCR reiterates its call for more support for the country and its people, who have generously hosted Afghan refugees for over four decades. The scale of devastation from the monsoon on people and infrastructure is hard to comprehend.
According to the latest estimates, unprecedented rainfall and flooding in late August resulted in at least 1,700 deaths, with 12,800 injured, including at least 4,000 children. Some 7.9 million people have been displaced by the floods, according to the latest estimates, with nearly 600,000 living in relief sites.
Sindh, Balochistan and Khyber Pakhtunkhwa (KP) provinces were most affected, with 80 districts declared "calamity hit". Of these, 41 host an estimated 800,000 Afghan refugees. Most are in just four districts: Peshawar (210,000), Quetta (170,000), Nowshera (77,700) and Karachi (71,500).
Some of those affected spoke to UNHCR about their traumatic experiences as rain and flood waters swept away their lives in minutes. Families rushed to higher ground for safety as dams failed and rivers burst their banks. They were forced to abandon a lifetime of belongings and sleep under open skies.
Source: UNHCR