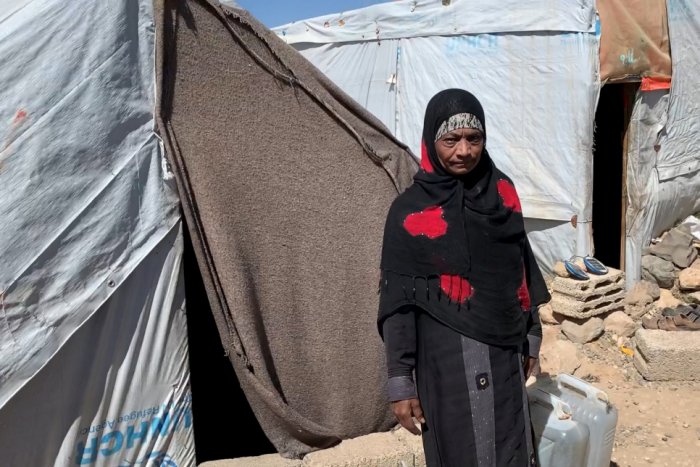 It was past noon, the time when Mariam would normally start preparing lunch for her children. But today, she and her extended family of 14 have not yet had their breakfast; the cold firepit in the corner of their tent an unwelcome reminder that they last ate more than a day ago.
"This is where I cook, and this is where we sleep." Mariam points to a tiny mound of ashes encircled by stones, next to a worn-out rug spread on the floor of the dark, ramshackle shelter. "Most of the time, we only eat once a day. I don't have fuel or firewood, so we burn plastic bottles and rubbish when we have something to cook," she said.
Mariam, 50, and her family were forced to flee their home in Sa'ada, north-western Yemen, after the conflict erupted in 2015. She now faces a daily battle for survival alongside 136 other families on a site hosting displaced Yeminis in the Kharif district of Amran governorate, north of the capital Sana'a.
A widow with six children of her own, Mariam adopted seven of her nieces and nephews after her brother and his wife were killed in the bombing that forced her to leave home. Undernourished and gaunt, she must now feed and take care of 13 children on her own.
While the conflict in Yemen has hit the entire country hard, few have felt the deprivation as keenly as the Muhamasheen, an underclass to which Mariam belongs. The outcast ethnic group dubbed the 'marginalized ones' were already suffering the legacy of centuries of discrimination and poverty before fighting broke out in 2015.
The deeply rooted discrimination they face is believed by some to be linked to their ethnic origin as the descendants of African slaves brought to the region in the sixth century. They are mostly confined to slums on the outskirts of towns and cities with few economic opportunities, and lack access to basic services such as water, sanitation and education.
To ease the sense of marginalization surrounding the group, the Sana'a authorities recently renamed them the "grandchildren of Bilal", after a highly respected historical figure in the Muslim world ­– a former African slave and close companion of the Prophet Mohammed who led the first call to prayer.
Before she was bombed out, Mariam used to work as housekeeper, sweeping and mopping floors to earn a little money to feed her family. But since fleeing her home she has not been unable to find a job, leaving her unable to afford school supplies or the 12,000 Yemeni rials (approximately US$20) it costs to secure identity documents for most of her children.
Source: UNHCR